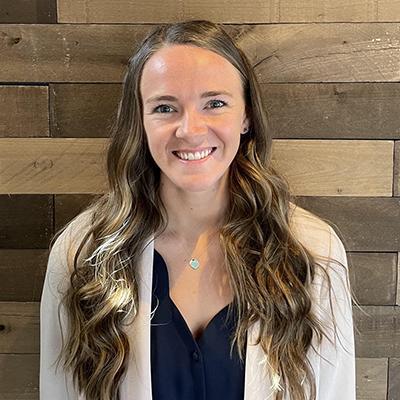 CJ Taylor
PT, DPT, MBA
Biography
---
Dr. CJ Taylor prioritizes her patients and their passions. As an athlete and outdoor enthusiast herself, she understands the toll that pain and injuries can take on our lives, both physically and mentally. In clinic, she utilizes an individualized, evidence-based care approach in order to help her patients achieve their goals and get back to doing what they love.
A Washington-native, CJ graduated from the University of Washington with a Bachelor of Science in Biology with a focus in Physiology and a Bachelor of Arts in Psychology in 2017. She then went on to earn her Masters in Business Administration and her Doctorate in Physical Therapy from the University of Montana, graduating with both in 2021.
Outside the clinic, CJ can be found snow skiing, waterskiing, hiking, backpacking, running, weight training, racing her horse, spending time with her friends and family, or learning something new.
Certifications
---
HIPAA Staff Training | 2021
HiTech Compliance Associates
Heads Up Concussion Certification for Sports Coaches | 2020
CDC Heads Up
Certification in Basic Bleeding Control | 2019
American College of Surgeons
Certification in Basic Life Support (BLS/CPR) | 2019
American Heart Association
Education
---
Doctor of Physical Therapy | 2021
University of Montana
Missoula, Montana
Master of Business Administration | 2021
University of Montana
Missoula, Montana
Bachelor of Science in Biology – Physiology | 2017
University of Washington
Seattle, Washington
Bachelor of Arts in Psychology | 2017
University of Washington
Seattle, Washington
Continuing Education
---
MT-3: Intermediate Spinal Seminar| 3.1 CEUs
Axis Physical Therapy, Edmonds, WA | January 2022
Maitland Australian Physiotherapy Seminars
---
MT-1/MT-2 Skills Check Lab | 1.5 CEUs
Axis Physical Therapy, Edmonds, WA | September 2021
Maitland Australian Physiotherapy Seminars
---
CALU Virtual Summit
Online | September 2021
Clinical Athlete & The Level Up Initiative
---
Across the Continuum
Online | August 2021
Modern Pain Care
---
MT-1: Essential Peripheral Seminar | 2.5 CEUs
Online | July 2021
Maitland Australian Physiotherapy Seminars
---
MT-2: Essential Spinal Seminar | 2.7 CEUs
Online | June 2021
Maitland Australian Physiotherapy Seminars
---
MT-SIJ: Sacroiliac Joint & Pelvis Seminar | 2.0 CEUs (19.8 contact hours)
Axis Physical Therapy, Edmonds, WA | June 2021
Maitland Australian Physiotherapy Seminars
---
Managing Hip Pain in the Athlete, Team Concept Conference | 0.075 CEUs
Online | December 2020
American Academy of Sports Physical Therapy
---
Examination and History Taking of the Athlete with Non-Traumatic Knee Pain, Team Concept Conference | 0.075 CEUs
Online | December 2020
American Academy of Sports Physical Therapy
Clinical Experience
---
Outpatient Orthopedic Clinical Internship
Axis Physical Therapy, Edmonds, WA |15 weeks | Spring 2021
Outpatient Neurologic Integrated Clinical Experience
University of Montana Physical Therapy Clinic, Missoula, MT |4 weeks | Fall 2020
Inpatient Rehabilitation Clinical Internship
Providence Regional Medical Center, Everett, WA |8 weeks |Fall 2020
Outpatient Orthopedic Clinical Internship
Northwest Hospital & Medical Center, Seattle, WA | 8 weeks | Summer 2019
Professional Membership
---
American Physical Therapy Association
Orthopedic and Sports Sections | 2018-Current
Physical Therapy Student Association
2018-2021